The darkest corners of the Baseball Internet have been abuzz with recent news that both Out of the Park 12 and Baseball Mogul 2012 are going to feature WIns Above Replacement as a stat for the first time. In fact -- and this seriously kind of freaked me out a little -- Baseball Mogul head/only guy Clay Dreslough recently posted at the sportsmogul.com forums in a thread called "New stats in Baseball Mogul 2012" (omg omg omg) that he'd been using WAR all along: "

I've been using WAR in Baseball Mogul since the very first version, as it is the only logically consistent way to evaluate a player in dollar terms. But I've kept it hidden because of differences between Mogul and other baseball analysts (primarily when calculating park factors and replacement levels, but also in calculating linear weights for each played era)."

What? Clay has had Wins Above Replacement all along and he's been holding out on us? That's . . . that's just shocking.
Baseball Mogul and Out of the Park are awesome, both as games in and of themselves but also, importantly, as vehicles for baseball feelings. There is no stranger and yet lasting way to forge a kinship with, like, Willie Aikens, say, or to strengthen already existing bonds with Alfredo Griffin, for example, than to have them unexpectedly come through for you when you're at a crucial moment in your simulation of the 1985 ALCS. Because that's what you do in OOTP and BBM (never "BM," perhaps because then it would sound like poo): you sim. Then you change your team a little. Draft some guys. Sign someone. Do everything you can to ditch Raul Mondesi. Sim some more. Right an historical wrong and replace it with a new, no less egregious crime against history but one more pleasing to you personally. More simming. Then a snack, and you're back. It's the best!
These games are readily available and affordable, both in the sense that they are inexpensive if you want to buy them, or entirely free if you want an old one (the five-year-old versions, which are way, way more than serviceable, are available at their respective websites) or if you want a new one and you happen to be, like, on the internet in the least. But -- and by no means am I that guy, seriously I'm not -- I think I'm actually going to pay money to reward these fine gentlemen for their inclusion of my favourite statistic that I can't begin to calculate and yet put complete unfailing faith in. It's to the point that I almost feel bad. These games just so awesome.
I am not going to do a whole thing where I compare the two, because it's actually pretty simple: both own, so why not own both? Especially given that that they are free. Yeah, OOTP has a billion extra things you can do (which can be heaven or hell, based on your disposition) and it's the better choice if you want to build everything about your league and its players from the ground up, and Baseball Mogul tends to give you better results for long-term historical parallel universe MLB-type simulations and is easier to use and has, I think, better mods (baseball card mod: best mod ever), but fundamentally they're both sweet as hell and getting all worked up about the other baseball simulation is like the worst kind of I'M A MAC/I'M A PC bullshit ever. And yet it happens. On this very internet, it happens.
Anyway, the new OOTP comes out pretty soon and BBM comes out in March, and both will be great, so get one, or just get one of the old free ones, or something. If you are a baseball man, or one of the impressively fierce old baseball ladies who show up to games in packs and still curse the name of Homer Bush to this day because one time he did something that displeased them en masse, you simply owe it to yourself to at least try one of these games. Eventually this kind of game replaces most, though not all, of your desire to play other baseball video games at all, if you can even believe that is possible. Occasionally you will still want to play:
(i) MLB 10: The Show, because it looks like this:
This is literally the ugliest image in the entire game.
(ii) Baseball Stars, because it looks like this:
Ninja BlackSox forever imo.
(iii) And Pete Rose Baseball, because it looks like this: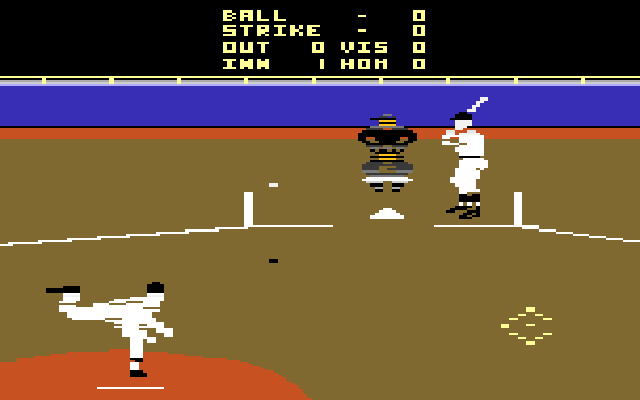 FIVE different pitches FIVE and balls totally bounce off the wall.
Other than those, though, you'll be totally good.
KS